Chesstacle
As a fascinating and demanding game, Chesstacle combines the sophistication of chess with the excitement of overcoming complex tactical and strategic obstacles. In this game, you won't be playing against another human being but rather against a computer, and you'll be given a position where you'll have to move both the white and black pieces. The game requires you to plan ahead, consider alternative strategies, and choose the best course of action.
How to play
Find a sequence of moves that results in a winning position for the side you are playing in Chesstacle. It will be clear from the puzzle whether it is the white pieces or the black pieces that you must help succeed. To win at Chesstacle, you must correctly predict your opponent's best move, your own best move, and the best move your opponent will make in response. Algebraic notation is used, which is a standardized means of representing chess movements on the board with letters and numbers. By contrast, "d4" implies advancing the pawn to the d4 square, and "Nf3" means advancing the knight to f3. After a player makes a guess, the game provides instant feedback by randomly changing the color of a tile on the board.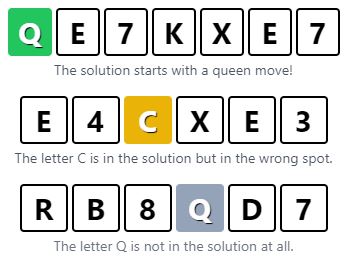 Instead of concentrating on tactical calculations, players of Chesstacle seek the best path to victory. It's a terrific way to put your chess knowledge and strategic mind to the test, and it's totally free to play online.
PUZZLE
WORDLEVERSE
NOT WORDS
brain
logic
guess
chess