Gene of the Day
If you like science and research, you can try Gene of the Day. A game with a unique theme revolving around human genes. Ask the player to guess the human gene name in 6 tries. Improve your science knowledge!
How to play
The game gets data from Genenames.org, a large and diverse gene name database site that provides players with many of the best and latest suggestions and data. The player's goal, is to correctly guess the name of the human gene in 6 tries. Players enter gene names that are 5 characters or less, and to ensure accuracy and consistency should use hyphen ("-") expansion. After each prediction, the game will provide feedback through the color of the box to let you know the level of accuracy, thereby narrowing down the answer and the possibility of the next prediction.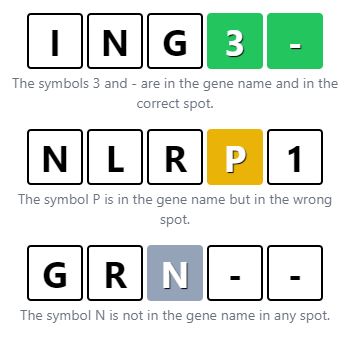 The Gene of the Day game not only tests players' knowledge of human genes but also their ability to think strategically and deduce answers. Players must use the information gained from their previous guesses to help them settle on a viable candidate for the gene's name.
Try your hand at a variety of Wordle games on a variety of themes, visit our Wordleverse collection. Where the latest games are always updated every day.
PUZZLE
WORDLEVERSE
NOT WORDS
brain
logic
guess
gen