Periodle
If you are a chemistry lover, you can try Periodle. A word-guessing game featuring the five elements of the periodic table, from hydrogen to oganesson. Sounds interesting! Start learning the rules and see if you can conquer them!
How to play
You will see the difference because instead of guessing the usual word, you will need to guess the word based on the elements in the periodic table listed under the grid, arranged from hydrogen to oganesson. You have 8 attempts to make your guess and can enter varying lengths from 5 to 10 letters as long as you can validly spell the word part of the English periodic table.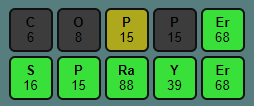 The guessable word is chosen from over a thousand options, each of which is between six and ten letters in length and has been manually filtered. Five-letter words have been left out of this list. Your prediction will determine whether the elements become gray, orange, yellow, or green. There is no trace of the gray element in the final product. If an element is showing up in yellow, it's in solution, but it's not where you'd expect it to be. If an element turns green when in solution, it is where it should be. All the letters will turn blue if you guess the correct word.
PUZZLE
WORDLEVERSE
NOT WORDS
brain
logic
guess
chemistry