Errordle
Test your knowledge of the Java programming language in Errordle. In this game, you'll need to use your Java coding skills to decipher the error message and guess the right answers. Get familiar with Java's error messages in a way that's both entertaining and challenging. Errordle is a new twist on the classic word-guessing game Wordle.
How to play
The player will get a lengthy Java error message with many phrases when they try to launch the game. Challenge participants to generate accurate forecasts about Java within a 6-try time limit. When a forecast is made, the words in question will be highlighted in one of many colors to show whether or not the prediction was accurate.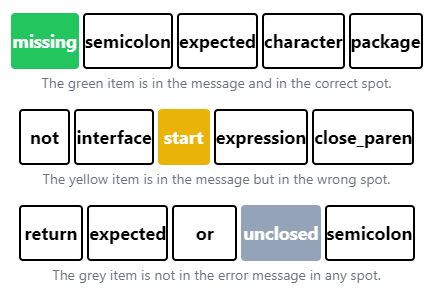 Players can use this data to improve their guesses and make as few incorrect guesses as possible. Gameplay in Errordle is meant to teach players about the Java programming language and its error messages. Anyone interested in programming can benefit from playing the game because it will help them become more fluent in the language and better able to decipher error signals.
If you like puzzle games and want to challenge your puzzle solving and prediction abilities even more, you can try our other Wordle games in Wordleverse collection. Have fun!
PUZZLE
WORDLEVERSE
THEME
brain
logic
guess
java