Genele
Genele is a variant of Wordle with unique and new gameplay. If you want to find a new game to entertain yourself with the classic word-guessing game, you can try Genele. The player's task is to guess the gene symbol consisting of 3-5 letters after 12 tries. Have fun.
How to play
Unlike the usual gameplay of Wordle games, You need to understand Genele's new game rules. Players will be provided with a 5x12 grid of crosswords and a character board that includes both letters and numbers. You need to guess the gene symbol that is 3-5 characters long after 12 tries. Since the crossword length in the grid is 5 cells, if your guess consists of shorter gen characters, you need to use spaces, and the numbers 0–9 will ensure the game's validity. After each prediction, the game will provide clues indicating the accuracy of that word and suggestions for the next predictions.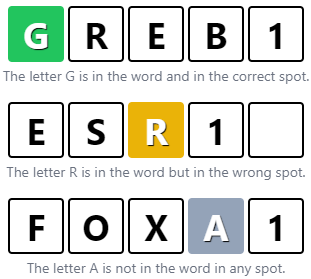 I wish you hours of fun gaming!
If you want to practice and challenge yourself with more Wordle games, you can access our Wordleverse collection that are constantly updated.
PUZZLE
WORDLEVERSE
NOT WORDS
brain
logic
crossword
word-search
seach
guess
letters