More WORDLE
More WORDLE presents increasingly difficult word-guessing challenges, asking players to make correct predictions about hidden words. Many fans of word games have said that they are really difficult but very interesting. Join now and see how many words you can guess correctly.
How to play
To start the game, you need to guess the hidden five-letter word. Also, you can choose advanced versions of this game with 6 and 7 letters. This means that the difficulty of the game will increase for those who like new challenges. More WORDLE also offers you the option to choose the level of play that suits your needs. There are 3 levels: easy, medium, and hard at the gear icon. The game is loved by many people because of its difficulty and variety.
After making statements about the hidden word, the results will be shown in the color of the box. Green, Yellow and Gray. You should rely on this to come up with the correct words. For better understanding see the example below: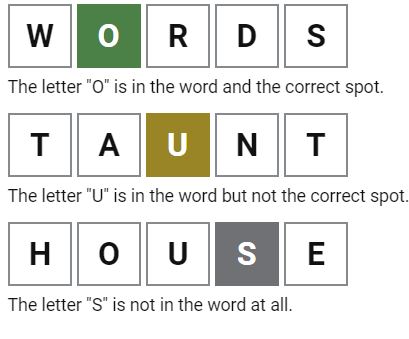 Start the game and see if you can become a language master!
PUZZLE
WORDLEVERSE
CLONES
brain
logic
crossword
word-search
guess
letters