Mahjong Handle
Mahjong Handle is an exciting game that challenges your strategic thinking and intuition as you try to determine the proper sequence of tiles to complete a hand. This exciting take on the classic Chinese game of Mahjong offers a daily question and limits players to a total of six moves in order to complete the puzzle.
How to play
When the game begins, the user is treated to a gorgeous interface that vividly displays the Mahjong tiles and the playing field. Within such parameters, the goal is to correctly guess the order of the tiles in the hand. Players have six chances to correctly guess the riichi mahjong hand. The composition of the hand is gradually revealed with each try. After a player makes a guess, the tiles change color to indicate how close they came to the actual hand. Players can sharpen their calculations with the help of the varying tile colors.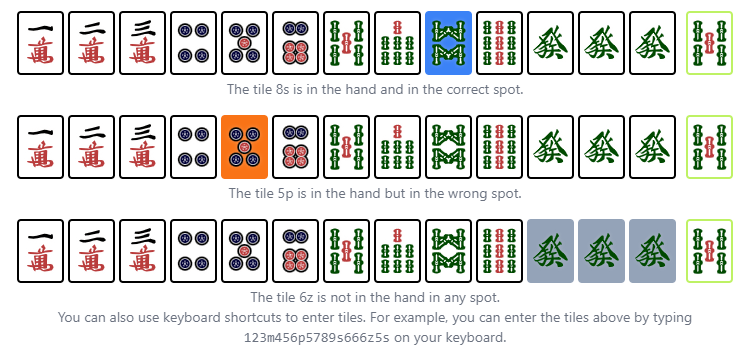 The hand must include one or more yaku, which are predetermined tile combinations and patterns that increase a player's score. In addition, each tile has been carefully placed in numerical and category (m, p, s, and z) order. Due to its special role in completing the hand, the final tile, the winning tile, is not sorted. Players have one daily question request to learn more about the current tile order. Players can choose the difficulty level of the game in the settings to suit their ability, you can go from easy to difficult levels. Have fun!
PUZZLE
WORDLEVERSE
NOT WORDS
brain
logic
mahjong
guess
challenges