Turdle
Turdle is a fun variation of Wordle where you have hours of fun playing with cute turtles. You get six tries to make the turtle jump by choosing the correct order of animation frames. If you like Wordle! and are interested in other games with a similar format, you shouldn't pass up the opportunity to play Turdle. This is something that will greatly appeal to you.
How wto play
You get six tries to correctly identify the TURDLE animation frames (1–5) and colors (W,B,P, R, and G). All of the frames will always be in the same order, but the first one will always be different. After each guess, the tiles' hues will shift to reflect how accurately you guessed the sequence.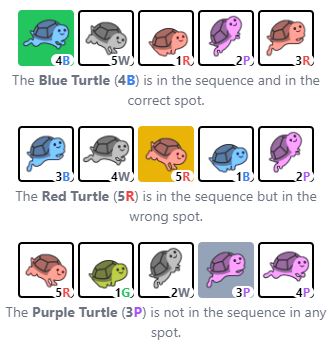 Wish you have hours of fun gaming with your friends!
PUZZLE
WORDLEVERSE
NOT WORDS
brain
guess
turdle