Wordle Junior
Try Wordle Junior if you want new word-guessing challenges. This word game has many novelties that provide players with many interesting game modes and increasing difficulty. If you are a fan of difficult challenges, you must definitely play this game.
How to play
One of the interesting points of the game is that you will be able to choose the game mode that suits your abilities in the settings. Your task in this game is to guess the 4-letter word in 7 attempts. After each successful submission, the color of the game will tell you how correct the word is.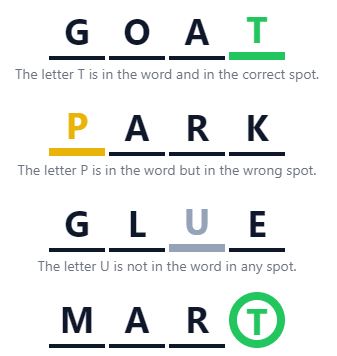 Players will have seven guesses to find the secret word. However, if it's too hard, you can't think of the next word. You can use the help the game provides in the "Sneak a Peek" section. Allows the player to quickly see a letter in the correct position. You will have a maximum of two views. Note that a letter can appear more than once in a word.
If you are still not confident in your ability to guess words and want to practice more, you can give it a try
Wordle Replay
. The game provides you with practice modes and hints, helping you develop your vocabulary.
PUZZLE
WORDLEVERSE
WORD GAMES
brain
logic
crossword
word-search
seach
guess
letters