Chemicle
If you are a chemistry lover, you definitely cannot miss Chemicle. A game inspired by the Wordle word guessing game with a chemistry theme Players make predictions about chemical molecular formulas. Sounds fun! Let's start challenging yourselves!
How to play
Surely each of us is no stranger to the molecules and chemical equations we learn in school. However, it doesn't stop simply like that. In this game, you will participate in predicting the chemical molecular formula in 10 tries. With letters and numbers listed below the table. After each prediction, the color of the box will change to let you know the level of accuracy. The less predictable, the better.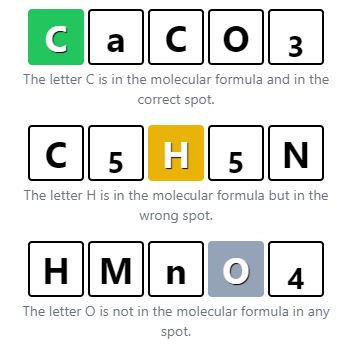 Go ahead and invite your friends to join this fun chemical molecular formula guessing game. This will be a way for you to practice and improve your chemistry knowledge.
PUZZLE
WORDLEVERSE
NOT WORDS
brain
crossword
word-search
seach
guess
letters