Numerle
If you are a lover of logical numbers, you can try Numerle. This is a puzzle game inspired by Wordle, but instead of guessing the usual word, the game asks you to make predictions about five-digit numbers in six tries. Let's get started and see if you can find the secret number.
How to play
In this game, players need to make their guess on a five-letter secret number, any number between 00000 and 99999. You will have a maximum of six guesses. However, with as few guesses as possible, you will become the winner if you guess that secret number before six tries. After each prediction, the game will tell you the exact result through the color of the box: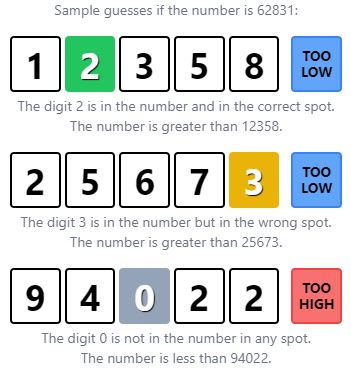 Go ahead and show your prediction and logical thinking skills in this number-guessing game. Invite your friends and challenge them to see who is the fastest to win.
Challenge the numbers in this fun puzzle game, many Wordle games with numbers-related themes are waiting for you to discover in the Numbers Games collection. Have fun!
PUZZLE
WORDLEVERSE
NUMBERS
brain
logic
guess
number