Chortle
If you enjoy playing Wordle, you won't want to miss out on another word game called Chortle. You need to guess the 5-letter word in four tries. The task is as simple as you think. Try it now!
How to play
The contestants are tasked with guessing a five-letter word. After each guess, the game will pose a new question to the player. The player must determine if the solution is a five-letter word by looking at the color of the letters. After each guess, the color of the box will change, giving you hints about the next word. Colors might be assigned to signify different degrees of precision, much like Wordle. Learn the secret phrase and win quickly. Get lucky today!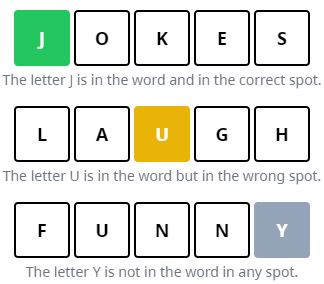 If you like this game, you can try challenging your version with many similar games: Dayfine, Pixletters.
PUZZLE
WORDLEVERSE
WORD GAMES
brain
skill
logic
crossword
word-search
seach
guess
letters