Dundle
Guess the 7-letter word in Dundle, a variation of Wordle with engaging gameplay. Wordle fans love this word game because of its fascinating novelty and significantly increased difficulty. Invite your friends and enjoy this difficult word game together.
How to play
With a simple gameplay similar to Wordle, it certainly does not make it difficult for enthusiasts to guess words. However, pay attention, stay calm, and analyse the hints the game offers. You will get ideas about hidden words and enter them into the table. Then get more hints from the colour of the crossword as you type. Those are the suggestions for the next guessed words. See the example below: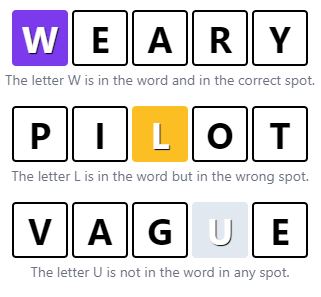 I wish you hours of fun and entertainment. If you want more challenge, you can try WhereTaken, a geography-themed game. You will discover many new and beautiful places in the world.
PUZZLE
WORDLEVERSE
THEME
brain
skill
crossword
word-search
guess
letters