Jewdle
If you love Jewish culture, try Jewdle. A variant of Worldle, guessing mysterious 6-letter words. With topics related to Jewish culture, festivals, prayers, .... This is a pretty good way to expand your knowledge. Have fun!
How to play
In this game, the participant must use his or her wits to come up with the 6-letter words that will fill in the grid. Holidays, slang, and prayers are just a few examples of the types of phrases that can evoke strong cultural associations. Everything is up for grabs as long as there's a larger Jewish connection. When the prediction is complete, the cell's colour will indicate how close the guess was to the actual answer.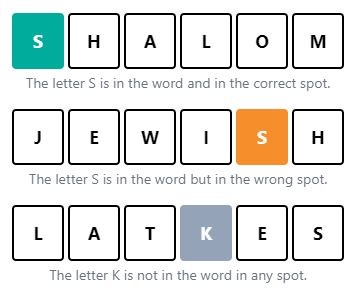 Many committed Wordle users contributed to the creation of the wordlist by the Shalom team. In addition to its problem-solving capabilities, Jewdle stands out because it allows the user to look up the definition of the solved term.
PUZZLE
WORDLEVERSE
THEME
brain
skill
crossword
word-search
guess
letters