Mardle
If you are a fan of Mario video games, Mardle is definitely the ideal game for you. Players need to guess the name of the game or movie related to Mario. Test your knowledge on this interesting topic.
How to play
In this game, players need to have certain knowledge about game series or movies related to Mario. It could be the name of the game, the theme of the video game or the animated series related to Mario. The goal is to guess the secret word in six tries. After each prediction, the game will respond to the correct result of the word through color: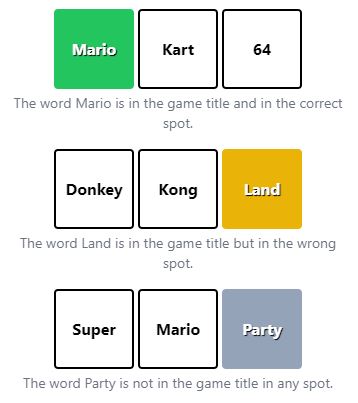 From there, players can make comments and predictions that narrow their prediction ability closer to the exact word. Good luck.
The game brings an exciting experience and improves your knowledge of the game series with the legendary Mario character. It also helps players practice their logic and accurate reasoning abilities.
If you like to challenge your vocabulary prediction skills, you can try Wordle games with many other themes in our Wordleverse collection.
PUZZLE
WORDLEVERSE
THEME
brain
logic
crossword
word-search
seach
guess
letters
mario