Movie Wordle
Prove the knowledge of fans of popular movies in the Movie Wordle. Guess the name of the Bollywood movie through the suggestions in six tries. Invite your friends to start this game. Have fun!
How to play
Are you a movie enthusiast? If yes, this game is exactly for you. Your task is to guess the five-letter Bollywood movie name in six attempts. Those must be valid words. Think and give correct answers about your statements. After each guess, the colour of the crossword will reveal how correct the word is. Note: The game will not accept special characters or spaces. E.g. 'Mr. X', 'Dil Se'.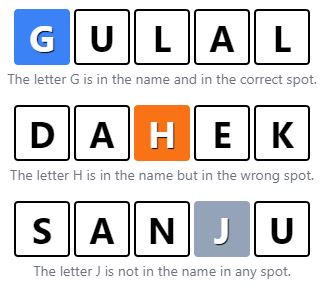 You will be playing once a day and will always be updated with new movie titles. Will be very interesting! Start right now!
More challenging with movie theme, you can try Flickle. Your task is to guess the name of the movie through pictures and short clips.
PUZZLE
WORDLEVERSE
THEME
brain
crossword
word-search
seach
guess
letters
movie