Pawrdle
Try Pawrdle, if you are a lover of cute pets. An extremely new and unique theme, inspired by Wordle. Brings hours of exciting gaming. Players make predictions about words related to pets in six tries. Test your vocabulary skills with this unique topic.
How to play
The objective of Pawrdle is to correctly guess a hidden five-letter pet-related word within six trials. Each word in Pawrdle consists of five letters. As a result, you should begin by trying to deduce the most frequently used letters in the English language. Following each guess, the game will offer color cues to aid in making more precise guesses about the next word: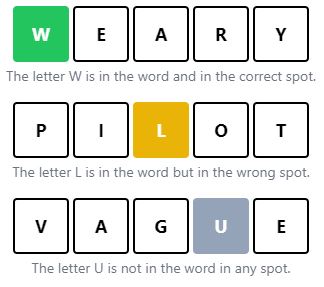 Use the hint system if you're really stuck. It will tell you which of the possible letters is the correct one, narrowing your search. You can browse many pet-related topics on Pawrdle, including dog breeds, cat breeds, bird species, and more. Pay close attention to the chosen category, as it may contain hints that help you identify the right term. The bright visuals and joyful music in Pawrdle make for a memorable gaming experience.
Many different interesting themes are waiting for you to explore in our Theme collection. Many new games are updated every day. Enjoy!
PUZZLE
WORDLEVERSE
THEME
brain
logic
crossword
word-search
seach
guess
letters
pet